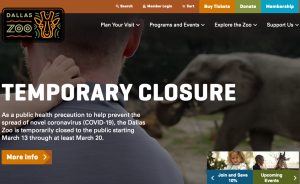 The Dallas Zoo has provided the following statement regarding activities at the Dallas Zoo. You can learn more about on the Dallas Zoo Website.
Dallas Zoo and Children's Aquarium at Fair Park Closed to Public Through March 20
As a public health precaution to help prevent the spread of coronavirus (COVID-19), we have decided to temporarily close the Dallas Zoo and the Children's Aquarium at Fair Park to the public, effective immediately through March 20. Given how quickly this situation is evolving, we will continue to provide updates on our website and via our social media channels.
Our top priority is the health and safety of our staff, guests, volunteers, program participants, and the animals in our care. We have been closely monitoring the constantly evolving situation regarding the coronavirus outbreak, and based on the Dallas County declaration on Thursday night, we feel it is our responsibility to do what we can to help reduce the rapid spread of COVID-19.
Essential animal care staff will remain onsite to care for the more than 2,000 animals that call the Dallas Zoo and the Children's Aquarium home. We are planning to have an additional mix of staff onsite as well as working remotely from home to allow us to ensure the Zoo and Children's Aquarium are both ready to re-open and welcome our guests back once this critical situation has subsided.
We want to reiterate, we have no reports of cases of coronavirus connected to staff at the Zoo or Children's Aquarium, and we have no reason to believe any of our animals are at risk.
While we know this is right decision, we are still disappointed to close our gates temporarily. We have a busy spring planned at the Zoo and the Children's Aquarium, including new animals to introduce, a HUGE new special exhibit at the Zoo, an ongoing slate of education programs, and an exciting lineup of special member events. We will continue to monitor this situation and hope to re-activate all of our plans soon.
We'll continue to provide updates at www.DallasZoo.com/Health and on our social media channels.
Thank you for your ongoing support for our mission of Engaging People & Saving Wildlife. Please be smart and stay safe during this challenging time. We'll see you again soon at the Dallas Zoo and Children's Aquarium at Fair Park.
About the Dallas Zoo
The Dallas Zoo is always filled with very active animals. Each year, there are a wide variety of animals that the Dallas Zoo raises for entertainment and for the well being of the animals.
The zoo holds the hearts of many citizens in the city. In fact, many people go to the zoo so often because of the great quality of life that the city offers. If you are lucky enough to be living in the city, you may have noticed that there are hundreds of yellow pages in the yellow pages of any city. While some of them are non-profit organizations, most of them are for businesses that serve the public.
There are not a lot of cities where there are so many non-profit organizations such as the Dallas Zoo in the city's business community. The zoo also works closely with the City of Dallas. They work together to help children learn about conservation, global warming, environmental issues, and to raise awareness in the city.
There are more than sixty-five animal sanctuaries in the world, and many of them are in the United States. Unfortunately, some of these animal sanctuaries get shut down due to bad management.
One of the most popular reasons for going to the zoo is for the exotic animals. The Dallas Zoo holds several hundred different species of exotic animals. There are chimpanzees, tigers, lions, and zebras. Many of these animals are used for medical research and are not for sale.
Another good reason to visit the zoo is for the educational programs that the zoo offers. There are also special programs for children and adults alike. Kids love watching the zoo's animals, while adults love listening to the children's programs. It is a great way to get all the knowledge they need on conservation issues and global warming.
Most of the zoo's different animal exhibits are very interactive. They give a sense of the life that an animal feels like in their natural habitat. You can learn about the life cycle of the animal, and you can learn how animals behave.
They also offer a safari experience where you can go out and explore their outdoor habitats and see how animals behave outside of their natural habitat. The Dallas Zoo is always trying to find new ways to bring in the public and increase awareness of conservation issues.
Being able to bond with an animal is a great educational experience. You learn about the world in which animals live, the dangers that they face, and how they are being treated. Animals live in habitats that are extremely dangerous, they have to fend for themselves, and they have to eat to survive.
If you are interested in learning more about the animals that are on exhibit, you can take a tour of the Dallas Zoo. You can enjoy an educational program or a fun trip on a bus.
The Dallas Zoo has been operating for more than twenty years. During that time, they have raised more than thirty thousand dollars for conservation. In addition, there are several events that are held annually for the Dallas Zoo to help educate the public about conservation issues.
If you are looking for a family oriented, educational, and enjoyable place to visit, you should consider going to the Dallas Zoo. It is one of the top attractions for children in the city.