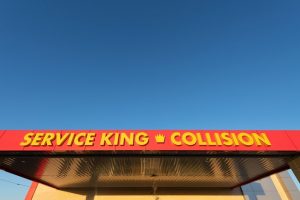 Through recent, current and future initiatives, Service King Collision® has shown its continuous commitment to the brave men and women who protect and serve our country.
On Nov. 5, Service King participated in the North Central Texas Red, White and You virtual career fair, hosted by the Texas Workforce Commission and Texas Veterans Commission. During the event, Service King Chief Human Resources Officer Sean Huurman hosted a webinar for veterans attending to provide a company overview and discuss job openings.
In the past five years, Service King has launched several strategic programs to employ veterans, and plans to continue developing innovative hiring solutions in the future.
Through Mission 2 Hire and with the help of a new strategic partnership with Direct Employer, Service King will be able to aggregate all of its open jobs and send them directly to military job boards to boost interest among candidates.
Service King is also in the process of developing a Veteran Employee Resource Group (ERG) to help retain its veteran teammates and drive referrals to attract additional talent into the organization.