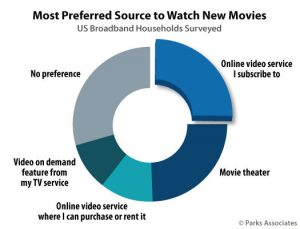 New research from Parks Associates finds 25% of US broadband households now prefer an OTT subscription service to watch new movies, while 24% still prefer movie theaters to experience first-run movie titles.
The firm is hosting the virtual conference Future of Video: OTT, Pay TV, and Digital Media this week, on December 14-16, starting with the session "New Trends in Video," featuring visionary speakers from Bloomberg Media and Philo followed by interactive panels with executives from ViacomCBS, CobbleCord, Starz, Verimatrix, Cox Communications, and fuboTV.
At Future of Video, Parks Associates highlights in-depth consumer and industry research on OTT services, the value of content, technology innovations, and best strategies for building successful video services.
Event sponsors include Salesforce, Comcast Technology Solutions, ContentWise, Verizon Media, You.i TV, Amdocs Media, Penthera, and Verimatrix.