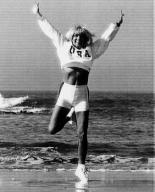 Judy Myers, CEO of uboomeru.com, a new social networking site for baby boomers and a fitness guru, alleges in her suit she was injured February 19, 2006, while working as an "Extra," i.e. a paid audience member, on a studio soundstage at the Sunset Gower Studios in Hollywood, CA, during a production of the show, "Deal or No Deal."
Judy Myers is the CEO of uboomeru.com a new social networking site for baby boomers published author of best selling health and fitness books, a masters bodybuilding and fitness champion, golf champion, media mogul and CEO of entertainment company Alchemy Visions, filed a lawsuit on Friday, April 6, 2007 against Lock and Key Productions Inc., the production company for primetime television show "Deal or No Deal," starring Howie Mandell. Alexander J. Petale, a high profile celebrity attorney, is representing Ms. Myers.
Ms. Myers states in her lawsuit, filed Friday, April 6, 2007 (www.lasuperiorcourt.org Case Number BC369070), "She was asked if she wished to participate in a 'dance contest,' and if so was instructed to quickly 'hurry up and come down' to participate in a dance contest during the commercial break."
The stage manager emphasized that everyone had to move quickly to come down to participate as there was not much time for the commercial break. The lighting was dark. There were no hand railings for persons descending the steps to hold on to and no illumination strips on the edge of the steps, to see the edge of the steps.
As Ms. Myers was hurrying down the steps, pursuant to the specific instructions of the stage manager, who at the time was looking directly at Ms. Myers, Ms. Myers tripped and fell down, striking her right knee and leg on the steps and floor, suffering great and considerable personal injuries, damages, harm and experienced pain to her right knee, right leg and side of her body.
Defendants and such and all of them were under a duty to maintain a safe working area for the plaintiff, a participant in the production of "Deal or No Deal" show. The defendants breached their duty to maintain safe working areas by failing to provide adequate lighting, failing to maintain handrails on the steps and failing to place illumination strips along the edge of the steps.
These failures on the part of the Defendants to maintain safe working areas for the plaintiff were the actual cause of Plaintiffs trip and fall injury and the Plaintiff suffered great and considerable injuries, harm, loss and damages, including but not limited to a torn meniscus in her right knee as well as other injuries to be specified during the course of this litigation.
Deal or No Deal will be holding auditions in Grand Prairie, Texas on April 14th.